Files Available in 12 Languages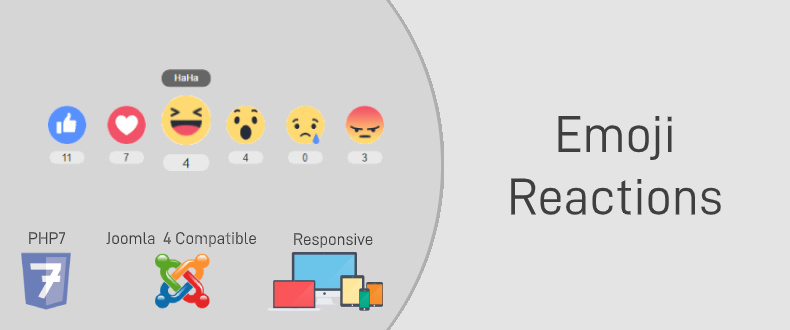 Click for Live Preview
Description
Specs
Translations
Changelog
Ask Developer
Make your content more interactive for the visitor
Popular Emoji Reactions Plugin will collect the opinions of the visitors easily!
Do not pay subscription to external websites and servers!
Your visitors are worth to keep on your side! When you use that HTML Plugin, you keep the data on your side. You do not pay extra subscriptions to the 3rd party websites!
Content Plugn + K2 Content Plugin
You will get Module and 2 Plugins!
Joomla Emoji Reactions Description
Super easy install and setup
You can easily setup in minutes and publish at any website.
NO CODING REQUIRED
Well-commented
Every parameter is explained, just customize in minutes
Enable Cookie Check
You can enable cookie check and let only 1 submission per device.
Enable IP Address Check
You can enable IP Address check and let only 1 submission per IP Address.
Excluded Joomla Articles
You can disable at selected Joomla Articles.
Excluded K2 Items
You can disable at selected K2 Items.
Exclude Categories
You can disable at article of selected Category or Categories
Excluded Menu Items
You can disable at selected Menu Items.
Hide or show at mobile devices
100% responsible and mobile devices tested, you can optionally hide at mobile devices.
We test our products by installing them both locally and on our demo server before offering them to you. If you encounter any compatibility issues, contact us immediately.
Joomla Emoji Reactions Specification & Compatibility
Type
Joomla Content Plugin + K2 Content Plugin
Compatibility
Joomla 3.x.x, Joomla 4
Mobile Compatibility
100% Reesponsive, tested on mobile devices
Tested Browsers
Chrome, Safari, Firefox, Edge.
Files Included
HTML5, CSS3, JS, jQuery, PHP, XML, SQL
After carefully preparing the English language files, we prepare the language files using Google Translate. The translations are almost 90% accurate.
If there is an incorrect translation, please report it.
If your language is not listed here, let us know and We can provide you the language file.
Joomla Emoji Reactions Language Files and Translations

English translation and language file available.


Sprachdateien in Deutsch sind verfügbar.


Des fichiers de langue en Français sont disponibles.


Sono disponibili file di lingua in Italiano.


Los archivos de idioma en Español están disponibles.


Nederlandstalige bestanden beschikbaar.


Arquivos de idioma em Português estão disponíveis.


Доступен русский перевод и языковой файл.


Διατίθεται Τουρκική μετάφραση και αρχείο γλώσσας.


Türkçe çeviri ve dil dosyası mevcut.


Dansk oversættelse og sprogfil tilgængelig.


Svensk översättning och språkfil tillgänglig.
* Translations made with Google Translate. If there is any mistake please report us with correction
We make various updates in line with your requests and depending on various developments. If you have any ideas, feel free to share them with us.
First release date
22 October 2020, Thursday
Last updated date
29 August 2023, Tuesday
Current version number
1.0.3
Joomla Emoji Reactions Changelog
1.0.3
Ajax URL Edited
1.0.2
Joomla 4 Compatibility issue fixed
1.0.1
New Translations added
1.0.0
Initial release
If you have any questions about the Joomla Emoji Reactions, you can use the form below to ask before purchasing.
Contact us before purchasing Joomla Emoji Reactions
Please fill in the form completely and tell us your question clearly.
Joomla Emoji Reactions Extension,
Visitors opinion is worth to listen for any type of content! Listen and generate leads easily. is reviewed
5.0 out of 5 by 1 PluginJar™ Customer!
You can view and review Joomla Emoji Reactions Extension at Joomla Extension Directory (JED)