Files Available in 12 Languages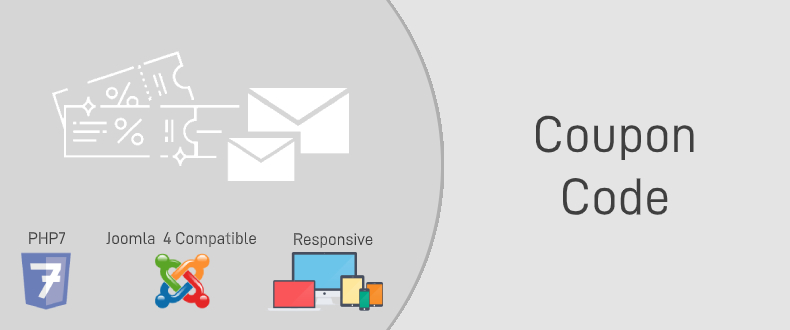 Click for Live Preview
Description
Specs
Translations
Changelog
Ask Developer
Send coupon codes when someone visits your website
Generate leads when you are distributing coupon codes at your Joomla website
Buy 1 Get 2 Extensions
When you buy this extension, you will receive the Download Links Extension for free.
Joomla Coupon Code Description
Super easy install and setup
You can easily setup in minutes and publish at any website.
NO CODING REQUIRED
Fully customizable!
Fully customizable via self-defined parameters!
Well-commented
Every parameter is explained, just customize in minutes
GDPR Compliant
You can ask visitor if they accept to request newsletter.
Send Coupon to Email Address
Send your coupon code to submitted email address.
Name + Email Address or Disable Name
It is possible to request email address with name or disable name input field and request only email address.
View Emails with filters
You can view submissions at each module backend separately.
Export Emails
You can export emails with submitted date, url, ip address
3 Different themes
Show coupon code module at any part of your website.
Unlimited Colors
Make it yourself with unlimited color options for backgrounds, text
Send HTML Emails for Download Links
Send HTML Emails for coupon codes. You can create your own HTML email templates and use for the download links.
We test our products by installing them both locally and on our demo server before offering them to you. If you encounter any compatibility issues, contact us immediately.
Joomla Coupon Code Specification & Compatibility
Type
Joomla Module
Compatibility
Joomla 3.x.x, Joomla 4
Mobile Compatibility
100% Reesponsive, tested on mobile devices
Tested Browsers
Chrome, Safari, Firefox, Edge.
Files Included
HTML5, CSS3, JS, jQuery, PHP, XML, SQL
After carefully preparing the English language files, we prepare the language files using Google Translate. The translations are almost 90% accurate.
If there is an incorrect translation, please report it.
If your language is not listed here, let us know and We can provide you the language file.
Joomla Coupon Code Language Files and Translations

English translation and language file available.


Sprachdateien in Deutsch sind verfügbar.


Des fichiers de langue en Français sont disponibles.


Sono disponibili file di lingua in Italiano.


Los archivos de idioma en Español están disponibles.


Nederlandstalige bestanden beschikbaar.


Arquivos de idioma em Português estão disponíveis.


Доступен русский перевод и языковой файл.


Διατίθεται Τουρκική μετάφραση και αρχείο γλώσσας.


Türkçe çeviri ve dil dosyası mevcut.


Dansk oversættelse og sprogfil tilgængelig.


Svensk översättning och språkfil tillgänglig.
* Translations made with Google Translate. If there is any mistake please report us with correction
We make various updates in line with your requests and depending on various developments. If you have any ideas, feel free to share them with us.
First release date
23 October 2020, Friday
Last updated date
02 November 2020, Monday
Current version number
1.0.2
Joomla Coupon Code Changelog
1.0.2
New Language Files added
1.0.1
New Language Files added
1.0.0
Initial release
If you have any questions about the Joomla Coupon Code, you can use the form below to ask before purchasing.
Contact us before purchasing Joomla Coupon Code
Please fill in the form completely and tell us your question clearly.
Joomla Coupon Code Extension,
Best way of sending coupon codes and generating leads from your Joomla website. is reviewed
5.0 out of 5 by 1 PluginJar™ Customer!
You can view and review Joomla Coupon Code Extension at Joomla Extension Directory (JED)